Biosafe is thrilled to announce our sponsorship of the groundbreaking 1st International Cellular Agriculture Conference, organized by VTT Finland. Held in Helsinki on 14-15 June 2023, this event brings together industry experts and thought leaders to explore the revolutionary field of cellular agriculture. As a leading advocate for regulatory compliance and safety assessment, Biosafe is proud to support and contribute to this important event.
We are thrilled to announce our participation as a sponsor in the highly anticipated 1st International Cellular Agriculture conference. This groundbreaking event brings together leading experts and stakeholders in the field of cellular agriculture, offering a platform to share cutting-edge research, industry insights, and foster valuable partnerships. As a trusted partner in food safety and regulatory compliance, we are excited to engage with the diverse range of topics covered at the conference, from precision fermentation and microbial biomass to cultivated meat and plant cells.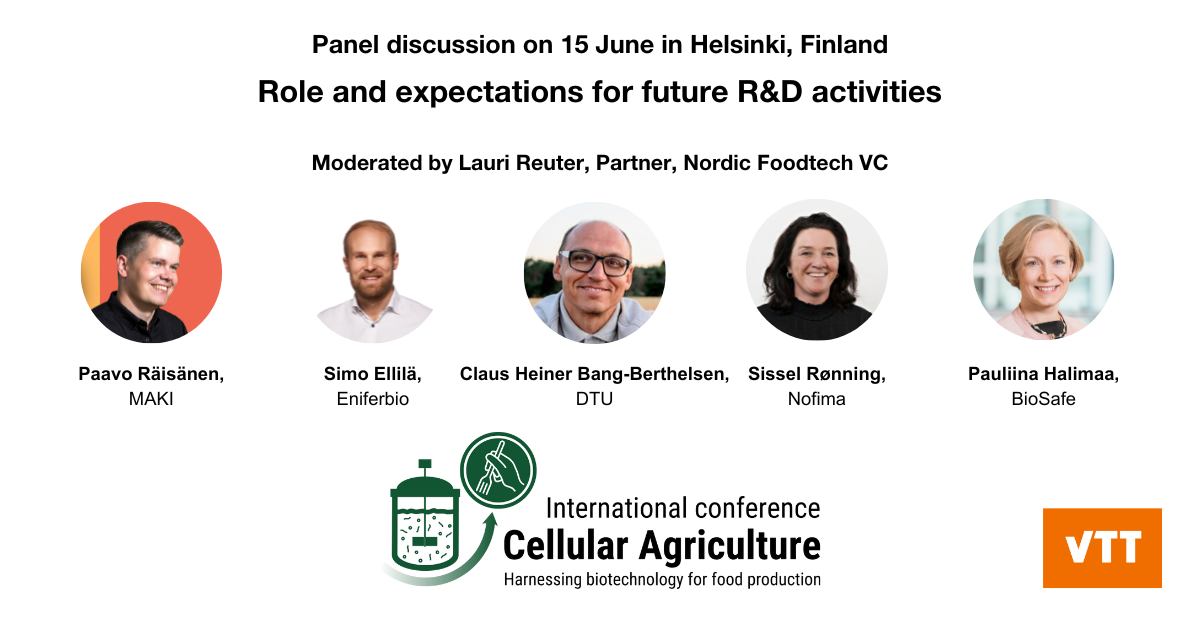 Unlocking the potential of cellular agriculture
Cellular agriculture represents a paradigm shift in food production, harnessing biotechnology to create agricultural products and ingredients through microbial fermentation and cell cultures. By cultivating proteins, lipids, and other food components using innovative techniques, cellular agriculture offers a sustainable and environmentally conscious alternative to traditional farming practices. As Finland takes the lead in this field, we are proud to contribute our expertise and support the rapid development of this discipline.
Unparalleled insights from industry leaders
The 1st International Cellular Agriculture Conference offers a unique platform for multidisciplinary discussions, covering various facets of cellular agriculture. Keynote speakers from esteemed organizations, including Perfect Day, Agronomics, Amai Proteins, University of Borås, Mosa Meat, and University of Helsinki, will share their expertise and visions for the future of food.
Exploring the landscape of cellular agriculture
The conference program is thoughtfully designed to address key areas of interest, including precision fermentation, microbial and algal biomass, cultivated meat and plant cells, as well as sustainability and safety aspects. Attendees will gain insights into cutting-edge research, industry trends, and policy developments that shape the cellular agriculture landscape.
Site visit to Solar Foods Factory 01
As an added highlight, attendees will have the exceptional opportunity to visit Solar Foods' Factory 01, where food is produced out of thin air in the form of a microbial protein produced with CO2 and hydrogen. We will witness firsthand the transformative potential of cellular agriculture and experience the innovative spirit that drives this field forward.
Biosafe's commitment to advancing cellular agriculture
As Biosafe, we are committed to playing a vital role in the progress of cellular agriculture. Our expertise in laboratory-level safety assessment, regulatory consulting, and dossier preparation uniquely positions us to assist companies in obtaining regulatory approvals for their innovative cellular agriculture products. We are here to guide our clients through the complex landscape of regulatory compliance, ensuring the safety and success of their novel food solutions.

Meet us on 14–15.6. in Helsinki!
Pauliina Halimaa

, PhD
Managing Director, Biosafe

Liisa Rimpiläinen

Business Development Manager

, Biosafe